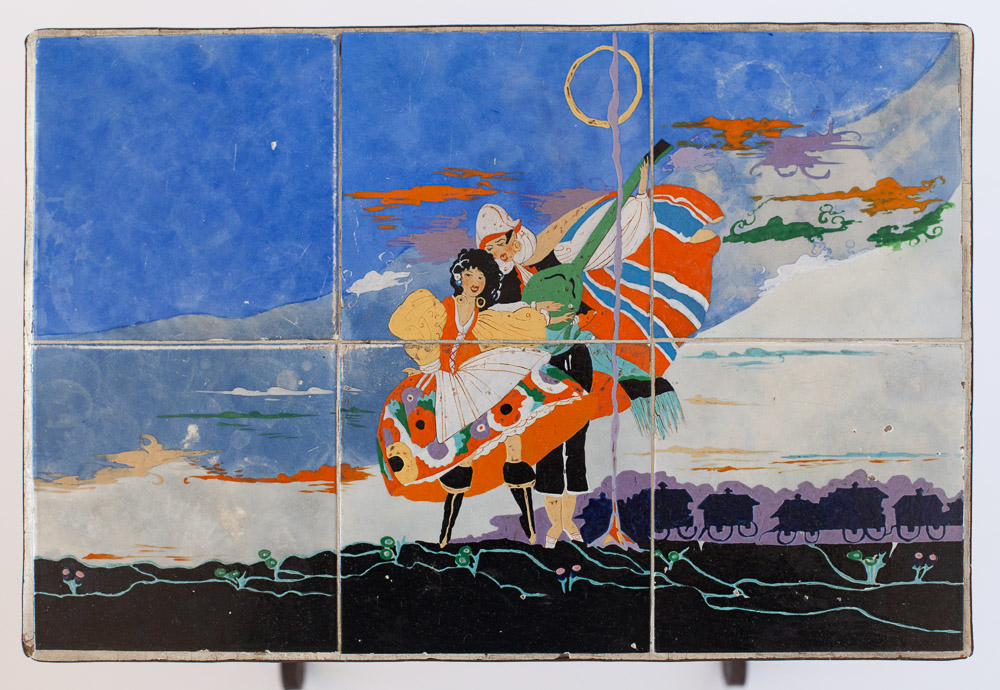 The star of my collection and a complete mystery. The tiles on this table are hand-painted with multiple glazes and fired several times. There are no cuerda seca or cuenca lines separating the colors, which makes this design truly unique. You can even see brush strokes in some of the glazes that didn't melt completely!
The image depicts a couple of dancers, but these are not Spanish or Mexican dancers that one would find in many Taylor or San Jose scenes; these are dressed in 1920s gypsy costumes. The caravan in the background and the green mandolin also point towards the more exotic nature of this image.
The tiles are all exactly the same size (5 7/8"), possibly white body, and are likely to be dust-pressed. The sheer number of different glaze colors (two different blacks, two different blue-greens in addition to the pure chrome green) suggests that the table was made by a larger manufacturer, such as Gladding, McBean, American Encaustic, or Taylor Tilery. However, it is possible that it was created as a one-off  by an artisan who had access to the glazes and a kiln through a friend or a family member. Finally, there is an off-chance that the tiles were created outside the US and set into an American-made wrought iron table.
Dimensions: 18 1/4" x 12 1/4", six 5 7/8" x 5 7/8" tiles
Acquired: Sacramento, California, April 2013