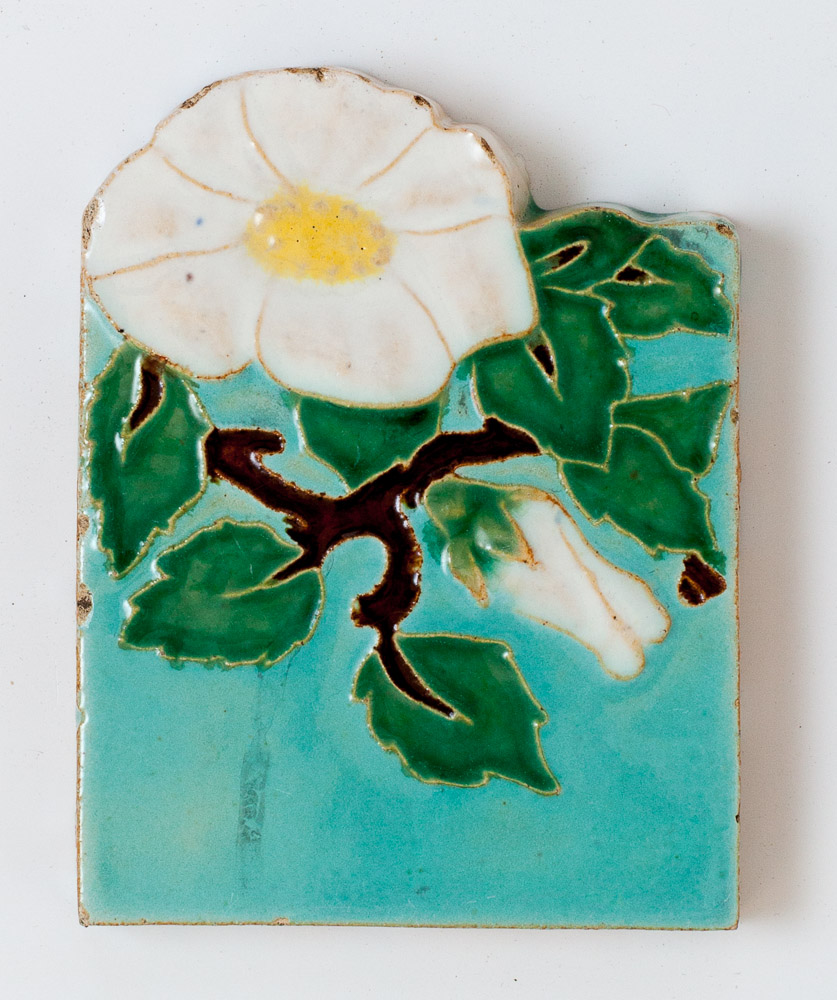 Malibu Potteries (1926 - 1932) produced a huge variety of tiles during its short history. Rufus Keeler who ran Malibu Potteries was very keen on highest quality products and was a fan of experimenting with glazes. Malibu produced a couple of catalogs that were aimed at builders and architects.
This collection of trim tiles was a "rescue" from Malibu fires of 1978. As a matter of fact, these tiles might have survived two fires - the original one in 1932 that destroyed the factory and then the Agoura-Malibu firestorm of 1978. The second fire destroyed whatever was left of the old factory, and tiles were scattered around for many years, sometimes washing up the beach.
Some of these relief trim are contoured and meant to top a row of field tiles or be installed with matching contoured field tiles. All of them have bright smooth glazes in a variety of colors. These bathroom trim tiles are well-documented. They appear on pages 60-61 of the California Tile, The Golden Era 1910-1940 (vol. 2), on page 241 of the Encyclopedia of American Art Tiles, Region 6, and on page 11 of Malibu Potteries catalog.
Most of these tiles were never installed but they've had some traumatic experiences in their long life, so they have some small chips and nicks here and there. I have quite a few of these; certainly enough for a project!
Dimensions: vary; the largest tile is 8" high and 5 3/4" wide
Acquired: Topanga Hills, California, May 2013