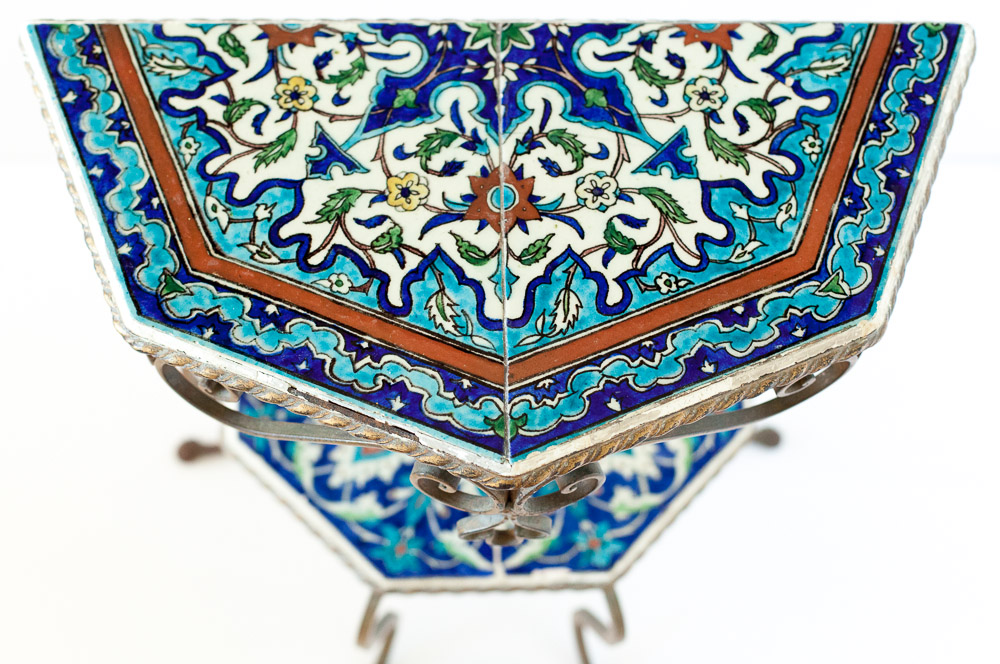 Iznik, a town in western Anatolia (Turkey), was a center for the production of decorative ceramics starting in the last quarter of the 15th century. The pottery had fritware body painted with cobalt blue under a colorless lead glaze and usually combined traditional Arabesque designs with some Chinese elements. Turquoise and dark cobalt blue were the main colors used until additional colors (sage green and pale purple) were introduced in the 16th century. By the end of the 16th century the quality of production started deteriorating and over the next century most pottery production moved to Kütahya, about 150 km south of Iznik.
Starting in the 20th century artisans in Kütahya revived the production of pottery influenced by the 16th-century Iznik designs. This table is handmade and the glaze colors, especially the turquoise, are exceptional. The quality of design execution shows that a skilled master decorated the tiles. The large quarter-octagon tiles are set into a hand-wrought iron frame. There are two shelves that hold two tiles each. The tiles on the bottom differ in the shape and design from the tiles on the top.
While I would love to believe that it is a rare 16th-century original, it is undoubtedly a 20th-century example (possibly the first half of the century), most likely produced by a small studio.
Dimensions of the top shelf: 21 1/2" wide; the four short sides are 8 1/2"; each tile is a quarter-octagon with two 10 1/2" sides and two 8" sides
Dimensions of the bottom shelf: 16 1/2" wide; the short sides are 7" and 3.5"; each tile is a quarter-octagon with two 7 3/4" sides, two 3 1/4" sides, and one 6 1/2" side
Acquired: San Francisco, California, March 2013